Saturday, April 13, 2013 12:00 PM Miami, Florida
Delta Sigma Theta Sorority, Inc.
Dade County Alumnae Chapter
Arts and Letters Committee and
Political Awareness and Social Action Committee
Present
Before They Die! Screening followed by panel discussion with Producer J. Denise Clement
Miami Jackson Senior High School Auditorium
1751 NW 36th St.
Miami, FL 33142
To Honor the Life and Legacy
BISHOP OTIS "DAD" CLARK
FEBRUARY 13, 1903 – MAY 21, 2012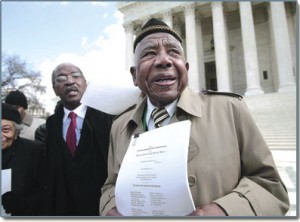 One Day In May – March On Congress
 May 31, 2012
United States House of Representatives
2426 Rayburn House Office Building
Washington D.C., DC 20515-2214
Click the link below to sign our petition to Congress on behalf of the Tulsa race riot survivors
Q&A-Croton Screening-"Before They Die" from Ken Sargeant on Vimeo.
Recent Events
Wednesday, May 30, 2012 Washington, DC  - Before They Die! Screening
Time: May 30, 2012 from 6:30 PM to 8:30 PM
Location: Smithsonian's National Museum of African Art
Organized By: The Tulsa Project, Inc.
Event Description:
The program will take place from 6:30-8:30 p.m. in the Lecture Hall of the Smithsonian's National Museum of African Art. It is located at 950 Independence Avenue, SW, Washington, DC 20560.  Enter the museum  via the Haupt Garden (right off of Independence Avenue and the main red brick Castle building is directly ahead).  Once you enter the Haupt Garden, the museum will be off to the right.   Upon entering the museum, you will be greeted by the staff from the National Museum of African American History and Culture and taken to the screening.
~~~~~~~~~~~
BUY the Before They Die! movie. Now available on DVD video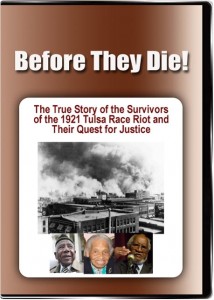 JOIN THE MOVEMENT To Get Justice for the Survivors
It was the worst race riot in the history of the United States; however, most people have never heard of it. Tulsa, Oklahoma, 1921, in less than 24 hours the prosperous African-American section of Greenwood, also known as "Black Wall Street," was completely destroyed. An estimated 300 were killed and over 10,000 people displaced,  as a 42 square block area of their homes and businesses were burned to the ground by a white mob that had been deputized by the sheriff.
This documentary is the story of the survivors of the 1921 Tulsa Race Riot and their quest for justice. There are only 45 survivors still alive today.
This is a story about the struggle for the soul of America and efforts to right a wrong that is long past due.
JOIN THE MOVEMENT To Get Justice for the Survivors